Alabama Power retiree services organization plans to continue raising the state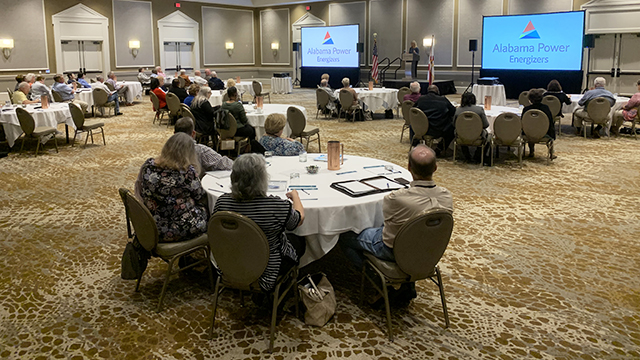 After a two-year hiatus due to the COVID-19 pandemic, members of the Alabama Power retiree services organization are reuniting and plan to continue doing their part to uplift Alabama communities through volunteering.
Nearly 40 leaders from Energizers met recently for their annual conference to define the objectives for the year. It was the first in-person meeting for the Energizers since 2019; the 2020 conference was canceled just as the coronavirus was beginning to spread across the country.
"For me, this is a time of renewal and almost starting over after COVID-19," said Energizers State President Becky York. "I was happy to see some new faces. It was a great time for the reunion as many people are preparing to get out and volunteer again."
With 11 chapters and 1,500 members across the state, the Energizers are retired Alabama Power and Alabama-based employees of Southern Company and their spouses. Energizers typically contribute tens of thousands of volunteer hours a year to community projects while donating their own resources to support nonprofits and other worthy community causes.
Among the presenters at the 2022 conference was retired Energizers Chapter President Michael Smith, now CEO of the Alabama Sheriffs Youth Ranches (ASIR). Energizers leaders agreed at the conference to make ASYR a support center for chapters statewide.
"Having the Energizers select ASYR for their 2022 draft means a lot to me as a Southern Company retiree," Smith said. "To date, Energizers has donated over $12,000 to ASYR. »
Energizers Chapter President and Alabama Sheriffs Youth Ranches CEO Michael Smith, left, strives to create an atmosphere in which youth in need can grow into "productive, responsible, happy adults." (contributed)
Since the early 1960s, the Alabama Sheriffs Youth Ranches have welcomed youth in need. (contributed)
The four Alabama Sheriffs Youth Ranches are true working ranches where chores help young residents learn responsibility. (contributed)
Smith said the Energizers' support is timely because ASYR has sites across Alabama that need volunteers. He said the Pell City location needed the most support since it was undergoing renovations.
"It's so wonderful that I worked for a company that was such good stewards and continues to care about retirees," Smith said. "These things are really part of the culture of the company."
Energizers president-elect James Glover said he expects a successful year.
"I am happy to be able to come together as a group because it has been so difficult to communicate with all the retirees during the pandemic," Glover said. "This will contribute to one of my main goals going forward, which is to increase the number of Energizers members."
The energizers of Alabama Power's service organization gathered recently for their annual conference. (Andrew Rhodes)
The energizers of Alabama Power's service organization gathered recently for their annual conference. (Andrew Rhodes)
A bittersweet announcement at the meeting was the retirement of Don Franklin, who served as the Energizers coordinator for Alabama Power's Charitable Giving organization. Franklin's career at Alabama Power spanned 45 years. He has worked with the Energizers since 2004.
"This is the saddest leadership workshop I've ever attended," Franklin said. "They are some of my dearest friends and I hope they feel the same about me. It has been a dream job.
On the other hand, his retirement means Franklin can now join the Energizers as a member. He said he plans to be an active participant.
"I am a very happy retiree from Alabama Power," Franklin said.