CRDBAG is a new storage and organization system for photo equipment
New Swedish company CRDBAG set out to create better storage solutions for photographers and videographers. His system is based on a set of durable bags that can optionally be arranged on a studio wall for easy access.
The company started with two products available in several sizes: the CRDPOUCH and the CRDWALL.
The CRDBAG range appears to combine tactical functionality with the world of high-end outdoor gear and the company says it is committed to creating the ultimate tool for subpacking and storing camera gear for filmmakers. and photographers. Taking a page from Think Tank's cable management bags and taking it up a notch, the CRDPOUCH system is designed to be tagged and tagged for easy identification of all items and getting started in a photographer's kit.
The system is quite different from storage on open shelves at home or Velcro dividers inside bags when transporting equipment on the road.
CRDPOUCH bags are closed with a weather-resistant YKK zipper and are made of Cordura – which is a very durable material – and incorporate a semi-transparent panel on the front to make it easier to visually identify what's on the inside. inside the bags (if the label is not sufficient).
The system is currently available in four sizes ranging from small 10x23x0.5 centimeter pouches capable of storing a portable hard drive or batteries, to extra large 25x43x0.5 centimeter pouches capable of storing a hook kit and / or drones. smaller. And accessories. The full line of pouches are only 0.5 centimeter (0.2 inch) thick, making them ideal for packing in a pelican suitcase, trolley bags, or even backpacks.

The interior of the bags has small zippered storage pockets that the company considers useful for small loose items like batteries and memory cards, while the exterior has small pockets specifically designed for Apple AirTags or bags. Similar tracking products such as a Tile, and a "hook tactic" designed to hang pouches in different ways, including connecting them to the next CRDWALL that the company plans to launch in late 2021.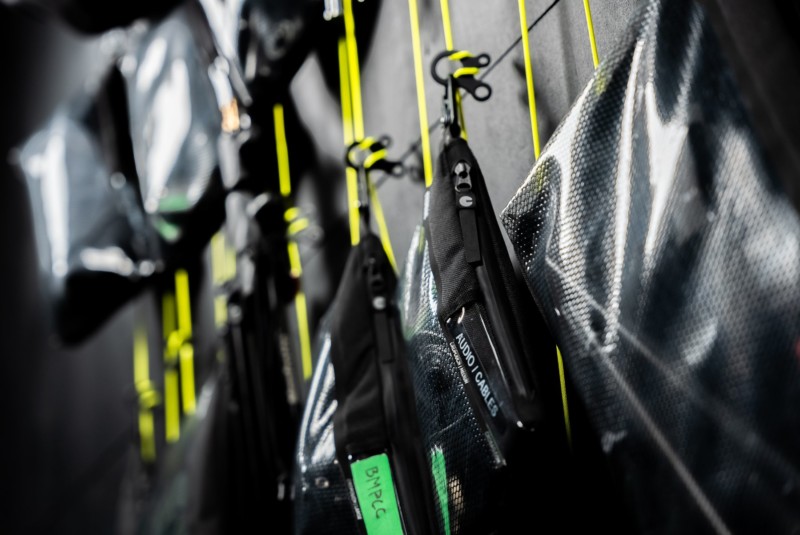 The CRDWALL is a modular wall system designed to hang CRDPOUCH bags for easy access. The setup is made up of two bars and eight hooks on each that have a crisscross cord that runs between them to attach pouches and other gear as well. The design of the system is certainly unique, and while aesthetically not everyone's cup of tea, there is certainly something intriguing about a studio setup that allows easy access to the various elements including a photographer might need, all at arm's length.
CRDBAG's CRDPOUCH comes in four different kits ranging from $ 108 for a pack of four Small bags to $ 149 for a pack of four Extra Large bags. The CRDWALL will be available towards the end of the year and is expected to cost around $ 200. Full details of the CRDBAG system camera are available on the company's website.