KPD announces organizational changes after wave of promotions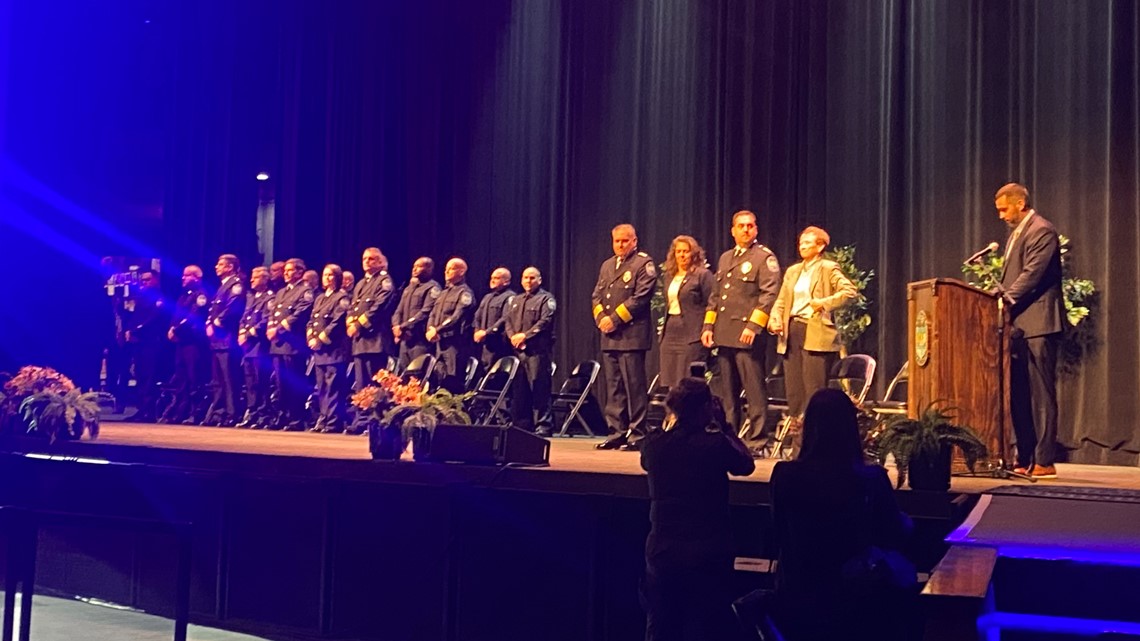 The KPD has promoted several officers to leadership positions, including two who will serve as new deputy chiefs.
KPD has two new deputy chiefs: Susan Coker and David Powell. Coker is a 26-year-old veteran of the force who recently served as patrol captain in the Eastern District, and Powell is a 24-year-old veteran who has spent the past 10 months as acting deputy chief of the Services Division. Management.
"I had a lot of options to fill our two vacancies as deputy chief, and I went into this process with an open mind," Noel said. "As we assessed our organization over the past three months, it became apparent that there are many outstanding and talented leaders within this department. Susan and David are two such people. Both are highly respected by their colleagues and have a reputation for leading with integrity. I have no doubt that they will help move our organization forward.
Chief Paul Noel has also promoted four lieutenants – Nevin Long, Ryan Morrow, Sammy Shaffer and Steve Still – to captain, and they will join the KPD staff.
"I'm thrilled to bring Nevin, Ryan, Sammy and Steve into the fold as members of the staff," Noel said. "They bring a broad and diverse collective experience, and all four have proven that they are fully committed to our mission as a department. I am confident that they will add significant value as members of my staff.
In addition to this, six officers were promoted to lieutenant and eight were promoted to sergeant.
During the promotion ceremony, Noel also announced several significant changes to the organizational structure of the department. Most significant: the reinstatement of the Central District, which will bring the number of police districts in Knoxville to three. The Central District will include downtown Knoxville, the area surrounding the University of Tennessee campus and South Knoxville.
"Change is not for change's sake. There is real purpose and real intent behind this," Chief Noel said. "The addition of a third district allows our officers to narrow their area of ​​focus, direct their efforts more closely, be more proactive and engage directly with the community on a day-to-day basis to resolve safety issues. that have an impact on each area of ​​the city."
Noel said some previously centralized units will now be spread across the different districts, including the traffic services unit. Community Outreach Units will transition to expanded roles as Community Partnership Officers, and these officers will be assigned to different districts to help address issues and quality of life issues and enable community meetings.
"I want to empower our district commanders and give them the resources they need to address issues within their district, and this change will make that easier," Noel said. "Whether it's a business that's having an ongoing problem, a traffic complaint, or specific concerns from neighborhood residents, our District Commanders will have the staff they need to address these issues as they arise. and as they arise."
Noel said Mark Fortner will remain the KPD's second-in-command as deputy leader.
The newly promoted staff officers were tasked with heading the various offices of the KPD with immediate effect. Newly promoted sergeants and lieutenants will step into their new roles and assignments on October 23.
"This has been ongoing since my first day here, and I'm excited to kick off this reorganization with our leadership team in place," Chief Noel said. "These changes have been made very deliberately with the aim of improving our operations, reinventing the way we deliver our services and allowing us to be more effective in our core mission of reducing crime and solving problems in the quarters."