Longo's organizational update includes new marketing leaders » strategy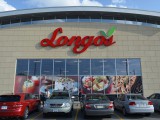 Just over a year after being acquired by Empire as a growth player in e-commerce, Longo's is making a series of changes to its management team.
It's part of what the grocery banner calls an "ambitious 10-year plan" to drive long-term growth. This plan will include significant investments in technology and processes, but it starts with the third pillar of the plan: its people.
It started with the appointment of Deb Craven, longtime senior vice president of finance for FGL Sports and Mark's of Canadian Tire, as chief operating officer in February. Craven will be responsible for the Grocery Gateway delivery service, in addition to broader store and supply chain operations. According to Longo's, aligning operations under Craven will help it achieve one of the key goals of the 10-year plan, which is to "deliver remarkable in-store and digital experiences."
On the marketing side, vice president of marketing Alex Green, who led the company's new brand positioning in 2017, takes on the new role of chief experience officer. Green will lead the creation and execution of an integrated omnichannel customer experience. He will also lead Longo's strategic planning process and customer experience roadmap, coupled with integrated marketing, communications and retention strategies.
KC Shendelman, who joined Longo's as chief marketing officer in 2020, is promoted to vice president of marketing at Green. She was specifically tasked with increasing the leadership and impact of the grocer's brand storytelling and experiences.
On the online front, Chief Digital Officer Mark Sheehan will add e-commerce functions to his remit, reporting to Craven.
When Empire announced it was buying a majority stake in Longo's last year, CEO Michael Medline noted that – in addition to the benefits of e-commerce through Grocery Gateaway – it accelerate the Empire's presence in Ontario. Part of the 10-year plan is to implement what the company describes as an ambitious real estate strategy to enter new markets and consolidate its position in existing markets. To that end, the company has appointed Joseph Longo – son of company co-founder Antonio Longo Sr. – as vice president of real estate and general counsel to focus on these pillars of growth.
Longo's also made some changes to its merchandising team, promoting both Mimmo Franzone and Joey Bernaudo to vice presidents of merchandising. Roger St. Onge is promoted to Senior Category Manager, Meat and Seafood and George Maia will be promoted to Merchandising Manager, Grocery, Dairy and Frozen.
Longo's management has also seen departures recently. Last month, Tressa Scorziello, director of grocery, dairy and frozen foods, left to become director of business development at United Grocers. Brian Langley, Meat and Seafood Manager, has also announced his retirement, but will continue to support the Longo's team in an advisory capacity for the next fiscal year.