Maurice Greenberg leads an organization to support initiatives around the world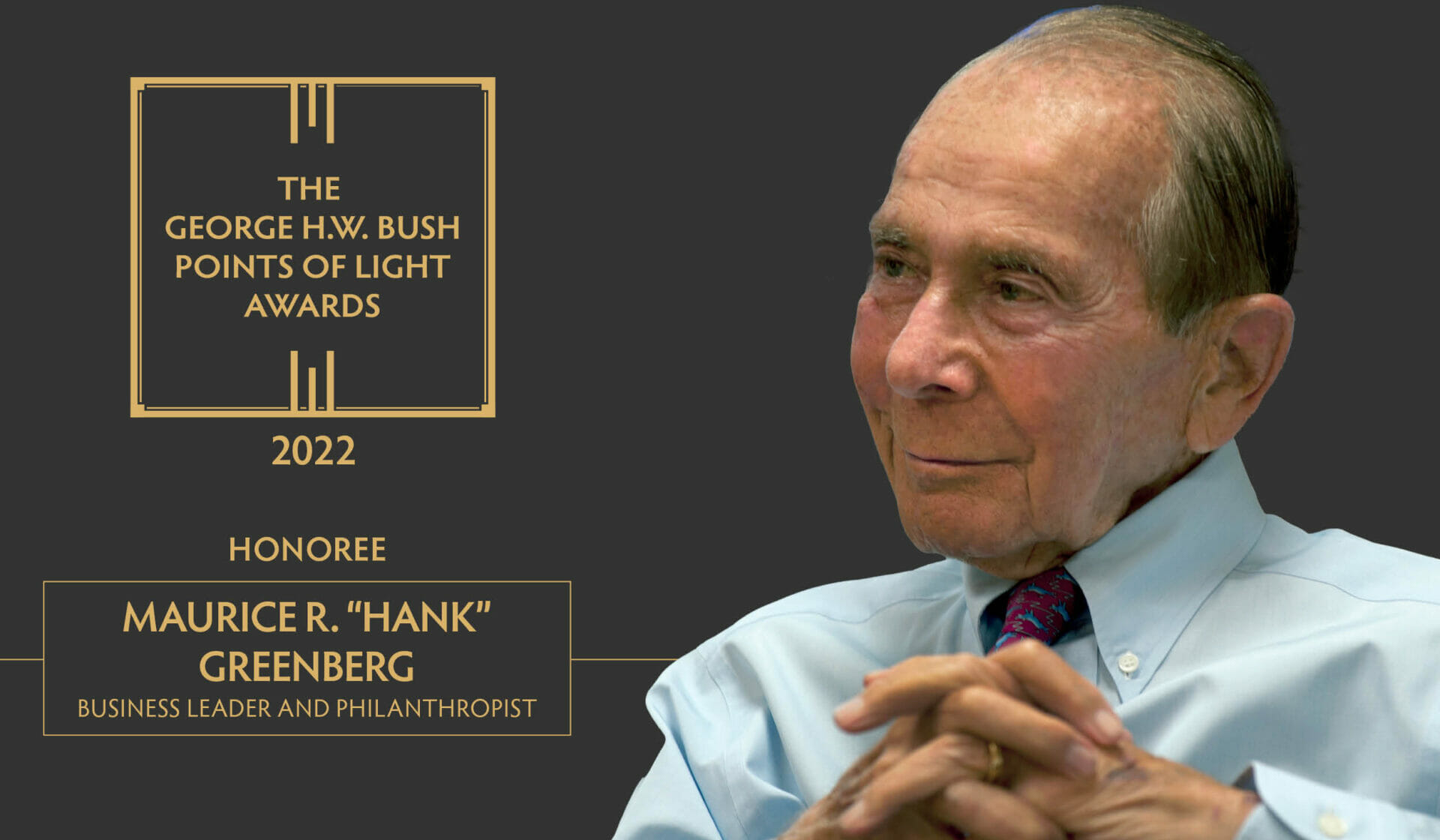 The George H. W. Bush Points of Light Awards took place on October 24, 2022. This event, our fourth annual celebration, honored individuals who are driving measurable and lasting change in their communities and beyond. One of this year's winners is Maurice R. "Hank" Greenberg, Chairman and CEO of Starr Insurance Companies, a global insurance and investment organization founded by Cornelius Vander Starr in 1919 in Shanghai, China. A decorated veteran of the United States Army, he served in both World War II and the Korean conflict, rising to the rank of captain and serving as a company commander. Now his efforts focus on the business and philanthropy sectors.
Mr. Greenberg retired as Chairman and CEO of American International Group (AIG), which became the first fully licensed foreign insurance company in China. Under his nearly 40 years of leadership, AIG has grown from an initial market value of $300 million to $180 billion, becoming the largest insurance company in the world.
Currently, he is Chairman of the Starr Foundation, a philanthropic organization originally funded by the estate of Cornelius Vander Starr. The Starr Foundation has now become one of the largest private foundations in the United States, awarding more than $3.8 billion in grants worldwide to a wide variety of academic, medical, cultural, and public policy organizations in worldwide.
Among his many appointments, Mr. Greenberg has also served as Vice Chairman of the National Committee on United States-China Relations, Honorary Vice Chairman of the Council on Foreign Relations, and Board Member of the United States-China Business Council.
In 1990, he was appointed by Zhu Rongji as the first chairman of the International Business Leaders' Advisory Council (IBLAC) in Shanghai. Greenberg was made an honorary citizen of Shanghai and was appointed senior economic adviser to the Beijing municipal government.
Mr. Greenberg is the recipient of numerous awards, having been awarded the Friendship Medal for his contribution to China's reform by President Xi Jinping in 2018 – one of only two Americans among 10 foreign leaders to receive the honor.
We are thrilled to celebrate Maurice R. "Hank" Greenberg and his powerful examples of leadership this year as one of our 2022 George HW Bush Points of Light Award winners.