Organization Succeeds in Propelling State Forward – Indianapolis Business Journal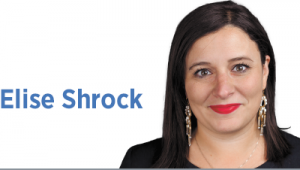 When I stood in the atrium of the Indiana Statehouse in 2018 alongside many of our state's trailblazers, ready to announce the launch of Hoosier Women Forward, I had to pinch myself.
Until then, I had been very fortunate to be mentored by leaders in our state like Betty Cockrum, Senator Vi Simpson and Rep. Cherrish Pryor. Now I stood on stage with them as a contemporary to usher in a new era for Indiana's Democratic women. If I thought this day was amazing, I would soon find the work ahead to be even more rewarding. And well timed.
As a founding board member, I watched Hoosier Women Forward launch its civic leadership training program and become a political force across our state, empowering Democratic women to take an active role in their communities and create a network that has become both a safe haven and a fortress.
This duality is precisely what makes Hoosier Women Forward so powerful. We don't just enter the arena as is, we create a space that encourages women to imagine an entirely new arena. From hospitality to the nonprofit sector, within the medical community and many other industries, our alumni unite the women of our state through shared democratic values. We are transforming the way women engage in our political systems.
Since 2018, we have had more than 30 female applications. These are women who, through our 10-month program, have learned not only how to navigate party politics and government, but also how to engage effectively with the media, use their digital resources, and build consensus with those who share different points of view. They had access to statewide movers in many areas.
Our alumni now number 89 women who continue to develop creative collaborations with each new graduating class. In a single day this summer, you could have encountered:
◗ any of our 15 candidates for the election canvassing their district or the alumnae working on their campaigns;
◗ Ashley Brooks (Class 2) organizes the Baby Got Brunch food festival for The Milk Bank, run by Freedom Kolb (Class 4);
◗ Cara Berg Raunick (Class 1), who produced a musical that raised over $60,000 for the All-Options Hoosier Abortion Fund.
Among our ranks, we also have 20 alumni and class members who are elected in the trenches who are fighting to lift policies that protect Hoosier families and, more recently, to push back against laws like Enrollment Act 1. in the Senate that make life less safe. in Indiana.
Our network is growing, our alumni are earning, and at our September 28 luncheon, we will also be celebrating the first recipient of the Betty Cockrum Leadership Award to honor one of our hardest working Hoosier women and to recommit ourselves to work at hand. Join us for lunch and get to know Class 5 and see for yourself the impact we are having.
We're pushing women forward and doing exactly what we said we would do from the day we launched our program in the halls of the Statehouse. We're equipping women to fill elected positions, boardrooms and corner offices, and we're building a legion of women across the state who are fully attuned to the policies that come out of our Statehouse and are ready to holding decision-makers to account.•
__________
Shrock is a local communications professional and policy advocate whose work intersects in the areas of spirituality, women's empowerment, and Hispanic affairs. Send your comments to [email protected]

Click here for more Forefront columns.