SPSCC launches college esports team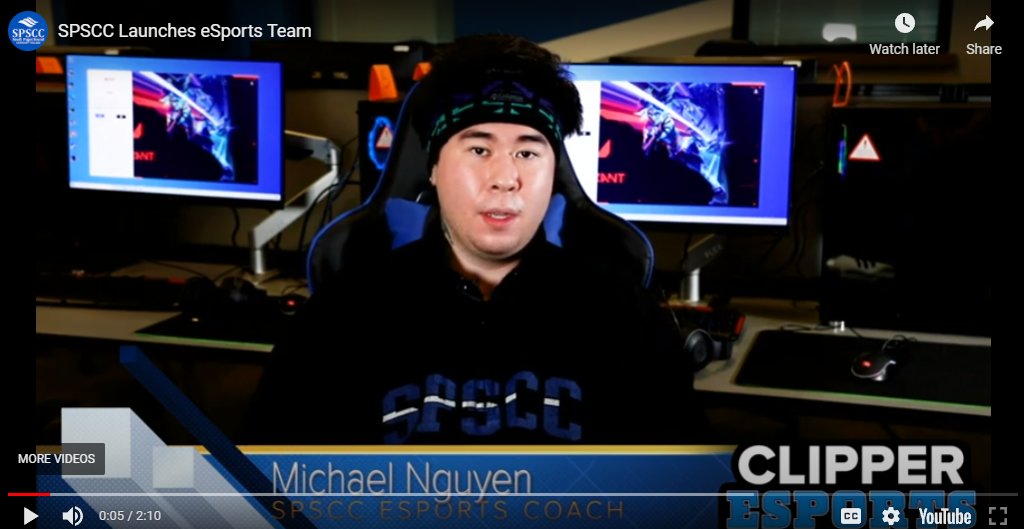 By Edwin Oscar Gutierrez Jr.
South Puget Sound Community College (SPSCC) has formed a varsity esports team, the first of its kind in Thurston County.
In a press release from SPSCC, the Clipper eSports team will be coached by competitive player Michael Nguyen, who held the elite world rank, top 1%, in Counter-Strike: Global Offensive when he played for the Western Washington University.
"Just like traditional sports, you have the NCAA going into the pro league," Nguyen explained in a video, "so now we have the collegiate level of esports, hopefully, building that pipeline on the scene. professional."
According to the school's website, recruitment is underway, with students eligible for scholarships through leagues and tournaments. The team is expected to compete in the fall of 2022.
SPSCC will also have an esports facility for the team, with 13 PCs and two Nintendo Switches for games like Halo, Valorant, Overwatch, Super Smash Bros, League of Legends, and more.
Nguyen, a player since high school, also plans to hold summer camps for college and high school players and visiting international students.
Esports is an emerging phenomenon, with Reuters reporting revenues of around $1.1 billion worldwide. A study published in The Sport Journal explains how inclusive esports is, with factors that otherwise affect traditional sports becoming irrelevant: such as gender, race and physical disability.
"We really seek to include everyone and present esports as an opportunity that everyone can take," Nguyen said in the school statement.
SPSCC students interested in joining the team can click here for more information.