The United Nations Industrial Development Organization (UNIDO) is calling for applications for the Global Cleantech Innovation Program (GCIP) 2022 from cleantech startups l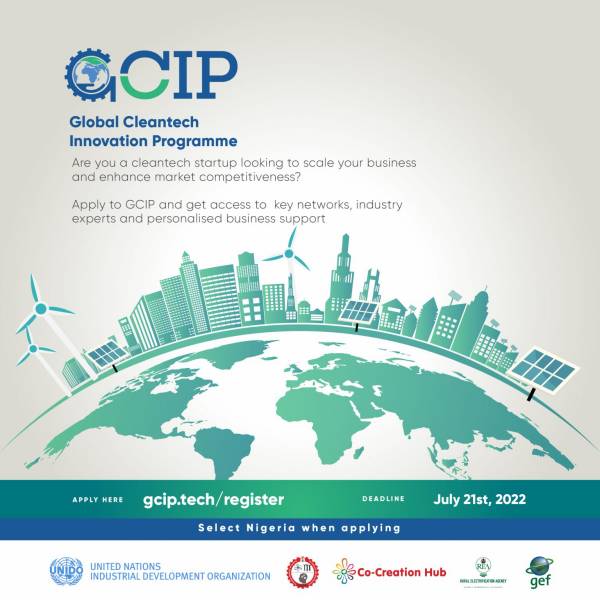 The The United Nations Industrial Development Organization (UNIDO) Global Clean Technology Innovation Program (GCIP) 2022 is accepting applications from clean technology startups wishing to scale their business and become more competitive in the market.
Are you a cleantech startup looking to scale your operations and increase your market competitiveness? Apply to the Global Cleantech Innovation Program (GCIP) to access crucial networks, industry experts and personalized business support.
The Global Clean Technology Innovation Program (GCIP) is an initiative led by the United Nations Industrial Development Organization (UNIDO) and funded by the Global Environment Facility (GEF) that promotes innovation and entrepreneurship in clean technologies to solve the most pressing climate and environmental problems.
Climate change is a global issue that requires immediate attention. Additionally, resource and energy requirements continue to grow, particularly in growing markets and developing economies. A country's ability to realize its low-carbon development potential can be hampered by its inadequate use of breakthrough clean technologies. The adoption of breakthrough clean technologies is crucial for climate action without compromising economic and industrial growth.
Although cleantech innovators have unlimited potential for new ideas, they often struggle to bring their solutions to market. Cleantech innovators and startups frequently face daunting hurdles when trying to commercialize their ideas and grow their businesses. Lack of technical support, restricted access to finance, a weak cleantech ecosystem, a weak policy regulatory environment and institutional barriers, among others, have prevented the majority of innovators from escaping the "valley of death" .
GCIP bridges this "valley of death" by providing competition-based business acceleration services for innovative cleantech start-ups and SMEs, connecting companies with private sector investors, and creating ecosystems conducive to innovation and entrepreneurship.
UNIDO Global Clean Technology Innovation Program Eligibility
Open to all cleantech startups and innovators based in Nigeria;
Startups must have:

An innovative technological product already developed (prototype or existing solution on the market)
A solution that falls under one of the following cleantech categories, with particular attention to solutions that improve access to energy in underserved regions:

Energetic efficiency
Renewable energy
Waste recovery
Green buildings
Transportation
Advanced materials and chemicals

A close-knit and committed team with complementary skills.
Benefits of UNIDO's Global Clean Technology Innovation Program
Access to high-impact capacity building sessions led by leaders in innovative businesses and clean technologies.
Connect with mentors and industry experts for focused advisory support along the way.
Access to capital through relationships with strategic investors, venture capitalists and other financing institutions.
Opportunity to actively contribute to the national and global cleantech innovation ecosystem.
Amplify your impact through national and global events and showcases.
Opportunity to scale your innovative cleantech solution in Nigeria and beyond through strategic linkages.
Connecting with large-scale cleantech companies around the world for possible collaborations.
How to Apply for the UNIDO Global Clean Technology Innovation Program
Interested cleantech startups that meet the criteria listed above should apply by clicking on the "Applybutton below:
Application deadline for startups: July 21, 2022